Robert de Brus, 1st Lord of Annandale m Agnes Bainard:
Robert I de Brus (died 1142) was an early 12th century Norman baron and knight, the first of the Bruce dynasty of Scotland. A monastic patron, he is remembered as the founder of Gisborough Priory in Yorkshire in 1119.
Nothing is known of Robert's father, except that he was a landowner in Normandy. An early modern historiographical tradition that he was the son of a Norman noble named Robert de Brus who came to England with William the Conqueror has been found to be without basis.
Modern historians contend that Robert may have come from Brix, Manche, near Cherbourg in the Cotentin Peninsula, and came to Britain after King Henry I of England's conquest of Normandy (i.e: at the same time as Alan fitzFlaad, ancestor of the Stewart Royal Family). David fitz Malcolm (after 1124 King David I of Scotland), was present in France with King Henry and was granted much of the Cotentin Peninsula. It is suggested that Robert de Brus's presences and absences at Henry's court coincide with David's.
Robert and Agnes had the following children:
(1) Robert de Brus II
Robert de Brus, 2nd Lord of Annandale m Euphemia de Aumale:
Robert II de Brus, The Cadet, (died 1194) was a 12th century Norman noble and Lord of Annandale. He was the son, perhaps the second son, of Robert de Brus, 1st Lord of Annandale.
Robert and Euphemia had the following children:
(1) William De Brus
WIlliam De Brus, 3rd Lord of Annandale m Christina:
William de Brus, 3rd Lord of Annandale (died July 16, 1212) was the second but eldest surviving son of Robert de Brus, 2nd Lord of Annandale. His elder brother, Robert III de Brus, predeceased their father and never held the lordship of Annandale. William de Brus thus succeeded his father when the latter died in 1194. William de Brus possessed large estates in the north of England. He obtained from King John, the grant of a weekly market at Hartlepool, and granted lands to the canons of Gisburn. Very little else is known about William's activities. He makes a few appearances in the English government records and witnessed a charter of King William of Scotland. He married a woman called Christina, and had by her at least two sons,
WIlliam and Christina had the following children:
(1) Robert de Brus IV
Robert de Brus, 4th Lord of Annandale (1195 - 1233) m Isobel of Huntingdon:
A 13th century Lord of Annandale, Robert was the son of William de Brus, 3rd Lord of Annandale and Christina or Beatrice de Teyden. Robert IV married Isabella, the second daughter of David of Scotland, 8th Earl of Huntingdon, by which marriage he acquired the manors of Writtle and Hatfield Broadoak, Essex in England.
Robert and isobel had the following children:
(1) Robert de Brus V
Robert de Brus, 5th Lord of Annandale (1215 - 1295) m Isobel of Gloucester and Hertford (1226 - 1264):
5th Lord of Annandale, was a feudal lord, Justice and Constable of Scotland and England, a Regent of Scotland, and a leading Competitor to be King of Scotland in 1290-92 in the Great Cause. Robert was son of Robert Bruce, 4th Lord of Annandale and Isobel of Huntingdon, the second daughter of David of Scotland, 8th Earl of Huntingdon and Matilda de Kevilloc of Chester. David in turn was the son of Henry of Scotland, Earl of Huntingdon and Northumberland and Ada de Warenne; Henry's parents were King David I of Scotland and Maud of Northumberland. In addition to Annandale, Robert was Lord of Hartlepool in county Durham and Writtle and Hatfield Broadoak in Essex, England. His first wife brought to him the village of Ripe, in Sussex, and his second wife the Lordship of Ireby in Cumberland.
Robert and Isobel had the following children:
(1) Sir. Robert de Brus VI
Sir. Robert de Brus, 6th Lord of Annandale (1243 - 1304) m Marjory, Countess of Carrick:
6th Lord of Annandale (dominus vallis Anandie), jure uxoris Earl of Carrick, Lord of Hartness, Writtle and Hatfield Broad Oak (Wretele et Hatfeud Regis), was a cross-border lord, and participant of the Second Barons' War, Welsh Wars, and First War of Scottish Independence. Legend tells that the 27-year-old Robert de Brus was participating in the Ninth Crusade. When Adam de Kilconquhar, one of his companion-in-arms, fell in 1270, at Acre, Robert was obliged to travel to tell the sad news to Adam's widow Marjorie of Carrick. The story continues that Marjorie was so taken with the messenger that she had him held captive until he agreed to marry her, which he did in 1271. However, since the crusade landed in Acre on May 9 1271, and only started to engage the Muslims in late June, the story and his participation in the Ninth Crusade are generally discounted. Robert's wife Marjorie was the daughter and heiress of Niall, 2nd Earl of Carrick. Carrick was a Gaelic Earldom in Southern Scotland. Its territories contained much of today's Ayrshire and Dumfriesshire. The couple held the principal seats of Turnberry Castle and Lochmaben.
Robert and Marjory had the following children:
(1) Isabel Brus was born in 1272.
(2) Christina Brus was born in 1273.
(3) Robert Brus was born in 1274.
(4) Neil Brus was born on 1276.
(5) Edward Brus was born in 1279.
(6) Mary Brus was born in 1282.
(7) Margaret Brus was born in 1283.
(8) Thomas Brus was born in 1284.
(9) Alexander Brus was born in 1285
(10) Elizabeth Brus was born in 1286.
(11) Matilda / Margery was born in 1287.
XXVI. Robert the Bruce (1274 - 1328) m Isabella of Mar:
King of Scotland, Robert was born in July 11, 1274 and died June 7, 1328. His body is buried in Dunfermline Abbey, while his heart is buried in Melrose Abbey. His embalmed heart was to be taken on crusade by his lieutenant and friend Sir James Douglas to the Holy Land, but only reached Moorish Granada, where it acted as a talisman for the Scottish contingent at the Battle of Teba..
Robert and Isabella had the following children:
(1) Marjory Bruce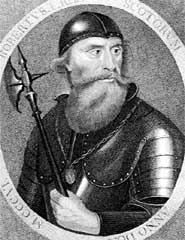 XXV. Marjory Bruce (1296 - 1316) m Walter Stewart (1293 - 1326):
Marjorie Bruce or Margaret de Bruce (December, 1296 – March 2, 1316) was the eldest daughter of Robert the Bruce, King of Scots by his first wife, Isabella of Mar. Her paternal grandparents were Robert de Brus, 6th Lord of Annandale and Marjorie of Carrick, 3rd Countess of Carrick. Her mother died giving birth to her. In 1302, her father was remarried to Elizabeth de Burgh. They were crowned King and Queen of Scots at Scone, Perthshire on March 27, 1306. The coronation occurred during the Wars of Scottish Independence in opposition to Edward I of England.
By the end of June, 1306, the Earl of Ross, Uilleam II, had captured the nine-year-old Lady Marjorie, as well as her stepmother the Queen , two sisters of her father the King, and Isabella MacDuff, Countess of Buchan. They were sent to England, where young Marjorie and her aunt Christina Seton were imprisoned at convents, while Queen Elizabeth was kept at a manor house in Yorkshire, and her aunt and the Countess of Buchan were kept in cages for the first few years of their imprisonment (Edward I had thought of putting Marjorie in a cage too, but changed his mind). Christopher Seton, husband of Christina and murderer of Robert Comyn, was executed. Edward I died on July 7, 1307. He was succeeded by his son Edward II of England who subsequently held Marjorie captive in a nunnery for about eight years. She was finally set free around 1314, possibly in exchange for English noblemen captured after the Battle of Bannockburn (June 23, 1314).
Walter Stewart, 6th High Steward of Scotland distinguished himself in the battle and was rewarded with the hand of the Princess of Scotland. Her dowry included the Barony of Bathgate in West Lothian. Two years later Marjorie went horse riding near Paisley, while . Her horse was suddenly startled and threw her to the ground. She went into premature labor and delivered her only child Robert at Paisley Abbey. A cairn marking the spot where Marjorie is reckoned to have fallen from her horse can be found at the junction of Renfrew Road and Dundonald Road in Paisley. She survived the birth by a few hours at most. Her son succeeded his childless uncle David II of Scotland in 1371 as King Robert II. Her descendants include the and all their successors on the throne of Scotland, and the.
Marjory and Walter had the following child:
(1) Robert Stewart
XXIV. King Robert Stewart II (1316 - 1390) m Elizabeth Mure (1320 - 1355):
Robert Stewart was born in 1316 and was the only child of Walter Stewart, High Steward of Scotland and King Robert I's daughter, Marjorie Bruce who died probably in 1317 following a riding accident. In 1315, an entail was passed in a parliament which removed Marjorie's right as heir in favor of that of her uncle Edward Bruce. Edward was killed at the Battle of Faughart, near Dundalk on 14 October 1318 resulting in a hastily arranged parliament in December to enact a new entail endowing the right of succession to Marjorie's son should the king die without issue. The birth of a son, afterwards King David II, to Robert I on 5 March 1324 negated the Steward's son's position as heir presumptive but at a parliament in July 1326 at Cambuskenneth his position in the line of succession was restored. This reinstatement of his status as heir was also accompanied by the gift of lands in Argyll, Roxburghshire and the Lothians.
Robert became King of Scots in 1371 and was the first of the House of Stewart. Before his accession he held the titles of High Steward of Scotland and the Earl of Strathearn. He was the son of Walter Stewart, High Steward of Scotland and , daughter of King "The Bruce" and his first wife . Robert Stewart was to his grandfather, King Robert in 1318 but this lapsed in 1324 when a son, afterwards King , was born. On his father's death in 1326, he inherited the title of High Steward and in the same year parliament named him as heir presumptive to David. In 1329 King Robert died and the 5 year old David succeeded him.
Robert served as Guardian of Scotland on four occasions—shared wit, (1334–1335), then solely during David's refuge in France (1338–1341) and twice during David's captivity in England (bet. 1346 and 1357). The Steward married in c. 1348 which legitimized his four sons and five daughters. His subsequent marriage to in 1355 produced two sons and two surviving daughters and was the cause of a dispute as to the line of succession.
Robert joined a rebellion against David in 1363 but submitted to him under threat that any further defiance would mean the end of his rights in the line of succession. In 1364 parliament dismissed David's proposal that the remaining amounts due to the English under the terms of his ransom would be written off in return for a Plantagenet being named as heir should he remain childless. On David's unexpected death in 1371, Robert succeeded to the throne at the age of 55.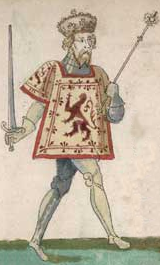 XXIII. King Robert Stewart III (1337-1406) m Anabella Drummond (1350-1401):
He was the eldest son of King Robert II by his mistress, Elizabeth Mure, became legitimized with the formal marriage of his parents about 1349. They had previously married in 1336, but some had criticized that ceremony as un-canonical. In 1368 his granduncle King David II of Scotland created him Earl of Carrick, and he took some part in the government of the kingdom until about 1387, when a kick from a horse disabled him. Probably in consequence of this accident his brother Robert, Earl of Fife, and not the crown prince himself, became guardian of the kingdom in 1389; but the latter succeeded to the throne on his father's death in May 1390.
At this time he changed his baptismal name of John - unpopular owing to its connection with John de Baliol; he also wished to avoid being called John II, as recognition of Balliol's kingship would weaken the Bruce title to the throne - for that of Robert, and became crowned at Scone in August 1390 as King Robert III. Although he probably attended several parliaments, the new king was seen only nominally as the ruler of Scotland, the real power remaining in the hands of his brother, the Earl of Fife. In 1399, however, owing to the king's "sickness of the body", his elder son, David, Duke of Rothesay, gained appointment as lieutenant of the kingdom; but there followed an English invasion of Scotland, serious differences between Rothesay and his uncle, Robert, now Duke of Albany, and finally in March 1402 Rothesay's mysterious death at Falkland Palace.
Robert III began to fear for the fate of his only surviving son, young James. In February 1406 he had James taken in secrecy to Dirleton Castle to wait for a ship to transport him to France. Robert of Fife sent a large force after Crown Prince James and when a battle was fought nearby, James was put in a rowing boat and ferried to the Bass Rock in the Firth of Forth. The 11-year-old heir to the throne and his guardians were left for a month on the tiny, windswept, rocky island among the boiling seas, before a ship arrived trying to bring James to France. Robert of Fife informed the English King, who arranged the ship's interception. Thus James became a prisoner of the King of England for 18 years. When Robert III heard of his son's capture, he became even more depressed and allegedly died from grief over the capture of James. Robert asked to be buried under a dunghill with the epitaph: Here lies the worst of Kings and the most miserable of men. He was interred at Paisley instead of Scone, the traditional burial ground of the Scottish kings, as he did not consider himself worthy of the honor.
Robert and Anabella had the following children:
(1) Mary Stewart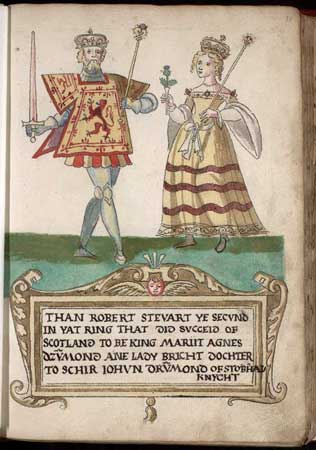 XXII. Princess Mary Stewart (1380-1456) m Sir James Kennedy (1376-1408)

XXI. Gilbert Kennedy (1406-1478) m Catherine Maxwell (1408 - )

Gilbert Kennedy of Dunure, 1st Lord Kennedy (b. circa 1406, d. after 6 March 1478/9) was a Scottish lord, a son of Sir James Kennedy of Dunure, the Younger, and Lady Mary Stewart, daughter of Robert III, King of the Scots. He was married firstly to Catherine Maxwell, daughter of Herbert Maxwell, 1st Lord Maxwell, circa 1440.

Gilbert and Catherine had the following children:

(1)

Catherine Kennedy

(b. before 1444)

(2) John Kennedy, 2nd Lord Kennedy (1454, d. bt 24 Jul 1508 – 13 May 1509)

XX. John Kennedy (1436-1508) m Elizabeth Godon:

XIX. Elizabeth Kennedy (1473- ) m John Rattray (1485 - 1513)

John Rattray (7th Laird) Knighted by James 4th. Killed at the Battle of Flodden in 1513

XVIII. Grizel Rattray (1511- ) m John Stewart (1507- )

XVII. John Stewart, Jr. (1525-1579) m Margaret Flemming

XVI. Elizabeth Stewart (1557-1595) m James Stewart (1553-1595)

XV. Catherine Stewart (1591- ) m Robert Grant (1590- )

XIV. Agnes Grant (1615- ) m James Grant (1613- )

XIII. Deborah Grant (1637- ) m John Knowlton (1632-1684)

XII. Nathaniel Knowlton (1658- ) m Deboray Jewett (1664-1743)

XI. Nathaniel Knowlton, Jr. (1683-1760) m Mary Bennett (1685- )

X. William Knowlton (1706-1753) m Martha Pinder (1709- )

IX. Mary Knowlton (1735- ) m Ezekial Tiffany (1733- )

VIII. Mary Tiffany Smalledge (1780-1864) m Eli Clark (1768-1828)

VII. Cyrus I. Clark (1809-1878) m Mary Wanzer (1829-1867)

VI. Cyrus Vanness Clark (1849-1918) m Margaret Ellen Reidy (1853-1926)

V. Walter Cyrus Clark (1871-1928) m Elizabeth Enmarion Lewis (1876-1915)

IV. Alonzo Durward Clark (1901-1967) m Wilma Emma Lydia Gibson (1903-1970)

III. Marion Lewis Clark (1931- ) m Mary Emily Bridenthal (1937- )

II. James Clark m Rebecca Dallas